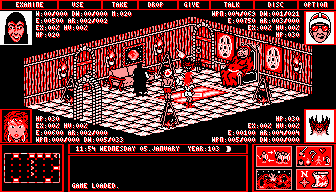 Black Land is our biggest game. It's a role playing game with lot's of monsters, items, locations, graphics, functions, story and the mighty Fres of course.
The magicians can use a lot of different spells, the warriors will find lots of weapons, shields and other useful things to fight about 50 different enemies. The game is shown in isometric 3D, has a nice intro and extro with music from Emonk. Just enjoy the game!
---
Download (English Version):

Thanks to Mark McReady for creating the DSK files of the German Version at CPC Klassentreffen 2001!